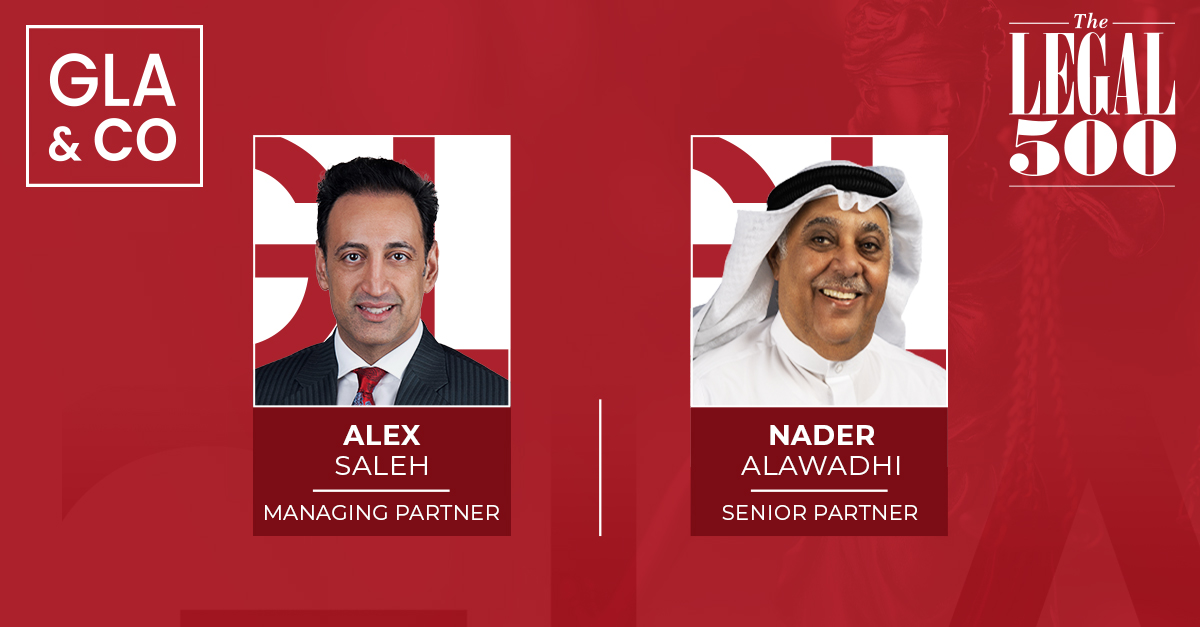 Legal 500 Recognizes GLA & Co's Founding Partners
We are pleased to announce that once again the Legal 500 (Legalease) EMEA 2022 has recognized GLA & Company's founders, Nader Al Awadhi and Alex Saleh.
With respect to Nader, who is the Senior Partner of GLA, he is considered to be one of the top Kuwaiti national commercial litigators in the country.  In Legal 500, he is described by clients as follows, "Nader Alawadhi has superb knowledge of business law and the banking industry, as he guided us through the whole process".  In addition, "Nader Al Awadhi is one of the go-to names that come to mind whenever we are faced with a legal dispute or if we have some legal documentation to be reviewed."  As a testament to his team-building skills, another client stated the following, "(t)he team at Nader Al Awadhi is considered one of the top tier legal teams in Kuwait. They are graduates of the top universities in the world and they bring diversity to the table in terms of nationalities and gender. They are very timely and professional in their work and they ensure that they go above and beyond the scope agreed. They always strive to add value to any legal discussion or brainstorming session. The team has a very well kept office with the latest technology for the convenience of the clients."
Alex Saleh, the Managing Partner, was once again ranked for the 10th straight year as 1 of only 2 lawyers in the entire country as Leading Individuals for the main practice area of Commercial, Corporate and M&A.  With such a large number of corporate law firms operating in the State of Kuwait, it is truly an honor to be ranked with such a limited number of individuals.  In the past year, Alex led on the MENA portion of the largest M&A deal in the Middle East (US$ 4 Billion DSV – Agility deal) while at the same time leading on the MENA portion of the largest private equity deal in the Middle East (US$400+ Million Softbank – Kitopi deal).
With the growth and development of GLA & Co in less than one year, we expect to be able to showcase a number of young rising lawyers in the Kuwait, UAE and other affiliated offices over the coming year in both Legal 500 and other like publications.